Restore & Maintain Infields Quickly and Easily.
Levels, Smoothens, Mixes, and Breaks up Hard Infields.
All Star Groomer AS72
The 6 ft. wide All Star is a great choice for those with a limited budget but still want well maintained infields.
A quality machine at a small budget price.
Yes, it will level your infields and keep them level! We Guarantee It.
Reduces sliding injuries, prevents water puddling, and controls weeds.


Available with 4 choices of "operator lift control systems" (manual & electric). Easily adjusts to different towing machines. No need for hydraulics or 3 pt. hitch.


Floating implements don't actually "level", instead they mimic the surface they travel over. They simply ride over the high areas
and sink into low areas without fixing them. The All Star Groomer Level Flo 1 Leveler Implement locks into an
optimal "leveling-grading" position to guarantee proper leveling takes place. It doesn't float.
The Leveling Implement cuts off high spots, mixes and carries the material along, then drops it
into low areas where it's needed. The leveler is followed by our exclusive 2-Brush Finishing Broom
which produces a fine finish to the grooming process. The Leveler not only levels infields but it also
effectively processes the top portion of the surface.
· Levels - Mixes - Smoothens
· Leveling Implement "Locks into position to guarantee leveling takes place"
· Cuts High Areas and Fills Low Areas
· Maintains Safer Playing Surface
· Breaks up hard infields
· Deters Water Puddling
· Controls weeds
· Works on all infield materials
· Reduces Need for Hand Raking
· Heavy Duty Steel Construction
· Powder Coated finish
· Pull with variety of towing machines
· Capable of High Speed Grooming
· No tools needed to adjust engineering
· Built Like a Tank!
· Easy to Use
· Affordable
· Saves Labor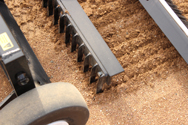 Optional Scarifiers to Pulverize - Shatter - and Break up Hard Infields.
Two Choices:
Chisel Scarifier or Spring Tine Scarifier
Our recent customer surveys show that approx. 20% of All Star users have infields that get hard enough at times
that a scarifier is used to pulverize - shatter - and break up the surface to make them more playable. For customers who
have these hard infields we offer two scarifier choices. Easy to use. Saves Labor.


Chisel Scarifier option.
Solid tooth chisel scarifiers penetrate hard infields better than spring tine scarifiers. Our unique design
is capable of shallow (light) to deep (up to 2-3/4" depth) use. The most effective scarifier on the market
for pulverizing hard infields. Also very effective when mixing in new material, removing weeds, or during
renovation work. Completely adjustable without tools.
Made with our exclusive hard "abrasion resistant" steel teeth.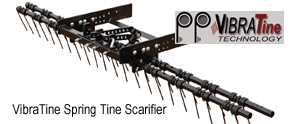 VibraTine Spring Tine Scarifier (For Electric Lift Machines Only. Special Order).
Shatters and pulverizes the top portion of infields. Completely adjustable to different angles.
Two rows of staggered spring tines. Mounts to front of groomer. Can be used while grooming.
If you want to be able to deep till then consider the chisel scarifier.



Things you should know about Breaking up Hard Infields.
Extreme caution should always be used during the season when deciding that an infield needs to be pulverized. Using any implement too deep during
the season could render it un-playable (make it too soft). Plus, during the season, or, the off season, no implement should be used too deep that it
disturbs or damages the important layering between the infield material on the top and the sub soil layer beneath. Any manufacturer that claims their
machine can be used to sub soil or pulverize infields deep during the season is made by people who either never played and don't understand proper
infield care, or, they are simply misleading customers in order to sell equipment.
Tongue Stand Option. Connects behind the hitch, on tongue. When the groomer is unhooked the stand keeps the end of the tongue off of the ground. When the grooming machine is hooked to the towing machine, the tongue folds out of the way. When stored inside, on concrete, the caster wheel allows for easy movement around the storage area. Older machines require drilling one hole in the tongue.


Ball Hitch (1-7/8" or 2") Coupler.
Easily connects to the end of the tongue the same way the standard pin hitch does.
Choose either 1-7/8" or 2" Coupler.
What is standard equipment on the All Star AS72?
Photo above shows standard parts, Each AS72 machine includes, as standard equipment,
Adjustable Tongue and Hitch Combo, Welded Frame with No-Air, No-Flat Wheels (never need air), LevelFlo1 Leveling Implement
and the Rear Smoothing Broom.
THEN....you choose an "Operator Lift Control System".
So to order: First choose a Model Number (example AS72-WR) then choose any optional accessories / attachments you want to add to the machine.
Each Model number represents a specific lift control system and they all include the same "standard equipment".
Below ("Factory Direct" pricing) are the different model numbers.
See our Complete Catalog link at the Top of page.
We have the most complete catalogs on the market!
AL-E-006/097 Additional "WR" Wireless Transmitters.
Additional Transmitters are available. Includes Lanyard.
Also consider the "SB" Backup operating system as an option. The "SB" is a portable control system.
Drag Mat option. Available in 2 Sizes:
72" wide x 36" deep Drag Mat is the same width as the Rear Finishing Broom.
78" wide x 36" deep Drag Mat is 6 inches wider than the Rear Finishing Broom.
How do I decide which size drag mat to order?
Remember: both sizes are adjustable left to right in 1" increments behind the groomer if desired.
72" wide drag mat is usually preferred by customers who will groom their base paths on baseball infields.
The 72" wide drag mat is the same width as the rear finishing broom. In order to groom base paths we recommend
that the dirt path be approx. 80" wide (with the 72" Drag Mat). This allows 3" clearance on each side for driving.
78" wide drag mat is usually preferred by customers who have all skin infields (no grass on the infields). This 78" wide mat can be centered so it
overlaps the rear finishing by 3" on each end - or it can be adjusted side to side (in 1" increments) to your preferred position.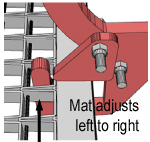 Exclusive Drag Mat Brackets (only by Heying Company). When you order the optional
Drag Mat it includes our exclusive Drag Mat Carrier Brackets.
The brackets attach to the Rear Finishing Broom to carry, pull and hold the drag mat
behind the groomer at all times (no need to hand carry the drag mat).
The drag mat can quickly be mounted or removed from the special brackets (without tools)
when needed, so it's very versatile.


Want just our Drag Mat Brackets? Yes, you can use your own drag mat with our exclusive brackets. But, you will then need to add front support to your
drag mat pull edge. All of our drag mats have a support tube mounted to the front of the drag mat that adds support while it rides in the brackets and while
it's being pulled during use. If you order our brackets (and use your own drag mat) then you will need to add support to the front pulling edge of your mat.
What is the advantage to having the optional Drag Mat attachment?
The biggest advantage the Drag Mat offers is it helps break up chunks and when using the Chisel Scarifier to pulverize a hard infield. Using the Chisel
creates chunks which the drag mat helps break up. It can also be used every day during normal grooming but the benefits may be negligible.
All Star Infield Groomer AS72. High Speed Grooming of Infields.
We offer more "Operator Lift Control" choices than any other manufacturer.
See Catalog for Details.
| Home | Infield Groomers | Synthetic Turf | Golf Greens | Brush Groomers | Driveways-Yards | Parts | Contact Us |
Heying Company Mailing Address: 515 6th Ave. Alton, Iowa 51003 Manufacturing Address: 101 Tenth St. Alton, Iowa 51003 Phone: 712.756.8847 Fax: 712.756.8849
Manufacturer of Grooming Equipment for Infields, Turf, Driveways, and More.
Proudly Made in the USA
________________________________________________________
We Respect Customer Privacy. Any information provided to Heying Company is used solely for internal purposes and is never sold, shared, or traded.
_________________________________
Heying Company Alton, Iowa 51003 USA Copyright (c) Heying Enterprises, All Rights Reserved
Heying Company is dedicated to producing top-of-the-line innovative infield and turf maintenance equipment. With our Infield Groomers you can produce Pro Infields in no time, but you won't need the large grounds crew to get it! Join our satisfied customers across the
US, Canada, Latin America and more who are now caring for their infields like an Infield Pro and their turf like a Turf Pro. Our turf customers include golf superintendents, municipalities, High Schools, City Recreation and Parks Departments, Private Baseball and Softball Leagues,
Fast pitch Softball, and Colleges who have improved their field conditions, plus they spend less time preparing and maintaining their turf and fields than with other equipment such as the Dirt Doctor, or Infield Rascal. Pull our machines with a variety of towing machines, including 4-Wheelers,
Garden Tractors, Gators, ATV's, UTVs and more! Have granular surfaces other than infields, our machines will work on many of them! If you're looking for quality turf and golf maintenance equipment, then our MG72 is the ultimate multi purpose machine.
There isn't anything like it on the market for pulverizing aeration cores, grooming golf greens, aerating, de-thatching, leveling top dressings, rejuvenating artificial turf, and much more.
Infield Groomers - Synthetic & Natural Turf Groomers - Golf Green Groomers - Driveway Groomers all manufactured here!